Phone number generator
Search millions of available virtual phone numbers with our phone number generator for free. Get a custom number in 2 minutes.
In minutes, not hours

Select a plan
3 plans – choose one that works for you.

Download our apps
Download our iOS and Android app or access iTeleCenter through your browser.

Good to go
Configure your settings and start calling and texting right away.
Types of virtual phone numbers
Vanity Numbers – People remember them
Vanity numbers have a powerful brand recall making your phone number and business more memorable. If you're number is memorable, they wouldn't even have to scour the internet.
For example, if you're running a pet care business, having numbers like 1-833-NYC-WOOF or 1-866-JEN-PUPS would almost always ensure they instantly remember you and your brand.
Get a Vanity Number for Your Business Today
Toll free numbers – Let Customers reach you for free
Let customers connect with you at zero calling cost. This way, customers won't think twice about connecting with you to seek information about your products or services.
Toll-free numbers are well-known and are usually used by large corporations, but that's not the case anymore. Make your company look bigger and more established with custom greetings and extensions or have greetings professionally recorded for you.
Get a Toll Free Number for Your Business Today
Local phone numbers – Connect better with local communities
More and more people are buying local to support their communities, so having a local phone number for your business is one of the easiest ways to increase your conversion rates.
Activate multiple local phone numbers for your business to project a multi-city presence without the expense of physical locations. Establish a local presence in New York or Los Angeles even If you're located in Texas.
Get a Local Phone Number for Your Business Today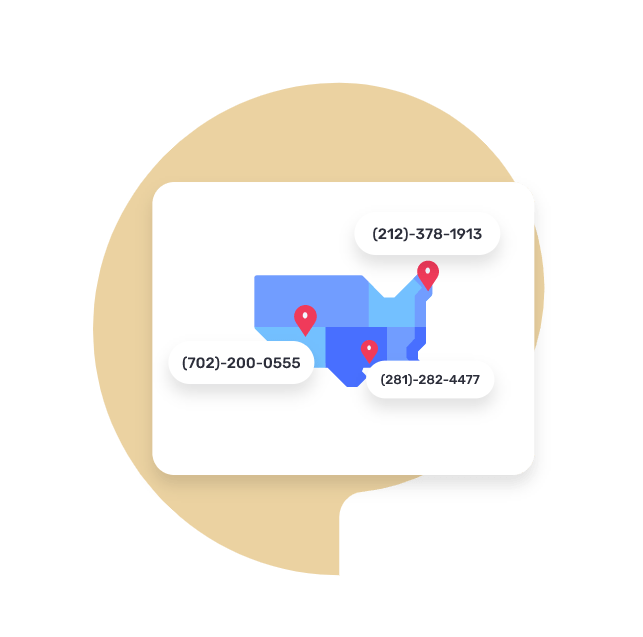 How to find the perfect phone number for your business

Step 1

Step 2
Choose the type of phone number you need for your business – Toll free, local or vanity phone numbers.

Step 3
Pick a random available toll free or local phone number or enter the keywords associated with the main product you sell, your business name, or any clever combination that is associated and recognizable to your business.
The vanity phone number search tool will look for available numbers that match your selected keywords. For example, let's say you own a pizzeria, If you have 1-866-BOBS-PIZZA as your number, they instantly know your name and what you do.
Features that fit right in
Call forwarding
Deliver exceptional customer service by being accessible all the time. With call forwarding in place, you and your staff can effortlessly attend calls anytime, from any location.
Business texting
Send text messages about alerts, appointment confirmations, updates, specials, etc. and keep your customers posted.
VoIP + Wi-Fi calling
Make and receive calls using your internet connection. VoIP + Wi-Fi calling is significantly cheaper when compared to calls placed on traditional phone systems.
Custom greetings
Deliver a better experience for your customer by personalizing your greetings, providing clear menu options and sharing company information.
Voicemail transcription
Don't have the time to listen to an entire voicemail message? Get voicemail transcripts via email, quickly skim through messages and reply to the ones that are important.
Automatic call distribution
Automatically route incoming calls to the best staff or department based on preset conditions. Fewer escalations + faster call response = happier customers.
iOS and Android apps
Use your smartphone, tablet or computer and stay connected. You and your teams can make and receive calls, texts, check voicemails, and more.
🤗 People are talking

"I frequently recommend iTeleCenter and tout the system's portability and its ability to make outbound sales calls. It's a great service, and I don't have to be stuck in the office to receive business calls. iTeleCenter has a lot of options you don't need at first but you grow into them. Other places make you pay to add features and it gets costly. With iTeleCenter you get everything you will need at a lower overall price."






"Implementing iTeleCenter in our business model enabled us to advertise one Toll Free number and forward incoming calls directly to our local business line in Tennessee. This means any U.S. or Canadian customer can contact us without incurring long distance charges. iTeleCenter also allows us to seamlessly transfer calls between departments without having to implement an expensive PBX system or install any equipment in our offices."






"iTeleCenter acts as an automatic lead generator. Interested buyers can drive by a home, call to learn more, and the agent gets the lead. The system has helped increase the number of prospects for my business."






"We've been working with iTeleCenter for years and HIGHLY recommend them to all our Friends and Clients. We use them for all our "free recorded messages" – their systems are infallible really and customer service is superb and the price is, in my opinion, way too low compared to the value they provide… iTeleCenter is really like an easy button for your business phone solutions."






"The Direct Selling Women's Alliance has had the pleasure to work with iTeleCenter for several years. We appreciate their technology as well as their prompt and courteous service."






"Since teaming up with iTeleCenter, the sales process has improved immensely. Our agents set up unique marketing extensions for their listings, ensuring prospective buyers can learn more about individual properties whenever they are ready. Additional extensions offering free audio reports also have proven effective at attracting potential buyers and sellers."






"iTeleCenter put all of my communication needs into one place, at one low price. This has helped me stay organized through the years and I rarely have to update my contact information, as I have kept the same number for so long. My clients only need to know one number, my iTeleCenter number. With the multiple extensions, follow-me's, fax-on-demand, etc."






"We are a Google certified company and we drive traffic to web sites for our clients. All of these sites have forms for prospects to fill out. We added the 800 numbers from iTeleCenter and the results have been amazing. With iTeleCenter we are able to see exactly how many calls came in, the time of day, and the number they called from, and even track the ROI on our PPC campaigns! The iTeleCenter number is one of the most important things we have added to our business."






"iTeleCenter is the most advanced voicemail and communications tool available on the market today. It has increased our advertising conversions and helped us more effectively manage our leads from advertising. iTeleCenter has enabled us to increase the number of leads gathered five-fold by capturing every caller's information. iTeleCenter is a great bargain when you consider that it is a fraction of the cost of a successful ad campaign. It increases conversion rates and makes us money because we can get a far greater return on our ad dollar."





Get your phone number today!